STATUS:






Frosty-popl 16 l
lTakenl ♀ l ♑l12/22/
Hey, I'm Frosty-Pop! I'm 16 and taken. I love Homestuck,Dangan Ronpa, Attack on Titan,Madoka Magica, Free and Pokemon! I'm a cosplayer, artist and a voice actress..oh and i'm an internet addict nuff said c:.
tumblr:
fr02ty-p0p.tumblr.com/
( feel free to follow me I don't bite! )
Skype: xxdreadedxheartbeatxx ( feel free to add me!I don't bite )
Facebook: NO! ( a few people on here have it but i'm not giving I away plus I have 5 accounts on fb xD *3 of them roleplaying accounts*)
devianrtART: YOu are here ( i have 2 others but I forget the the passwords)
Buttons C: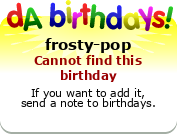 Which Madoka Magica Girl Are You?
Hosted By theOtaku.com:
Anime
What Alicorn Princess Are You?
Hosted By theOtaku.com:
Anime